Did you know you can DIY some incredibly awesome and fun furniture, toys, and art for kid's bedrooms and playrooms!
Looking for some seriously fun DIY Kids Room Ideas and Tutorials?? Well, like I mentioned in my List of DIY Gifts for under $10, I know some talented bloggers. And they were nice enough to let me share some of their amazing work with you guys! Their work always inspires me and keeps me motivated. I hope you feel the same way after checking these out!
But before we get to it, I wanted to share the story behind this list. I just finished the big makeover on my boys' bedroom. Yea! And it was so fun and worth all the effort. So, I hope to help you get the ideas and confidence to finish your own kid's bedroom or playroom makeover. These bloggers are great at explaining how they do things. So, I know you can follow along with them and get it done. 🙂
Now, let's get to the fun!
---
I was provided free product for this post. But as always, my opinion and review of the product are my true reaction and opinion about this product. I would never recommend something that I wouldn't pay for. Read my full disclaimer here.
---
15 Fun DIY Kids Room Ideas and Tutorials
The Handyman's Daughter made the coolest DIY Rocket Bookshelf ever! I love this thing and bet any kid would too.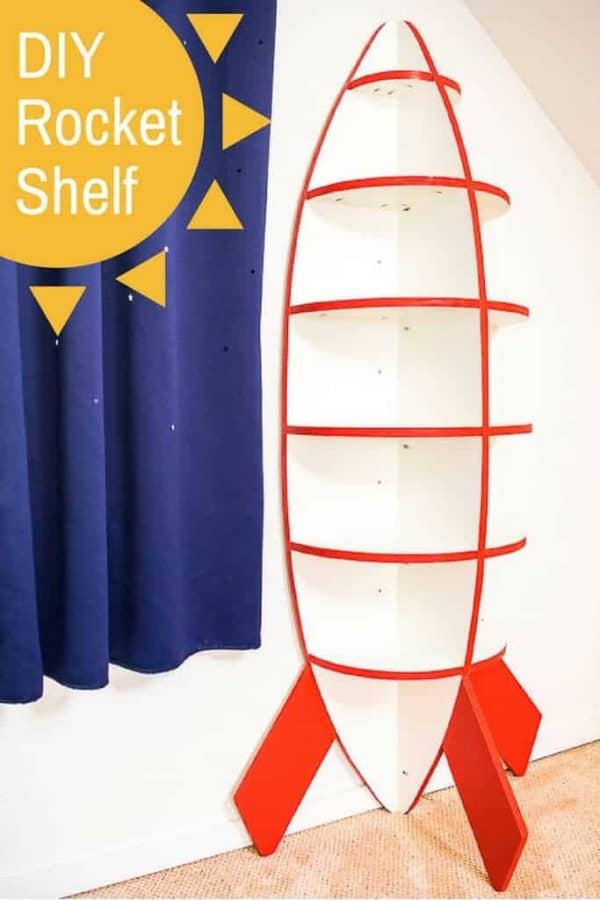 How about this for DIY Kids Room Ideas? My crafty way to add 3D details to a painted canvas with my Easy DIY Felt Wall Art. Pick your own image to use or download my printables.
Anika's DIY Life made this sweet and colorful kids bedside table with book storage. Don't you just love that wall too!
See how the Vanderveen House converted an antique bed into a toddler bed. Then gave it a cute update with chalk paint!
Check out my steps for building an easy PVC Pipe Kids Tent. I made sure this frame is hard to knock over and easy to push through standard doors. But, it's really a fun place for the kids to play and relax. Win!
Have you ever seen a cooler indoor play area, in your life? The Created Home has amazing ideas and a talent for building. This DIY Cabin Themed Playroom is so inspiring!
Hazel + Gold Designs made this sweet DIY Resin Coated Wooden Flower. Just pick your favorite Scrapbook Paper and follow her steps!
Neli Design shared a ton of Super Mario Bros Perler Bead Patterns you can use to make cool wall art, like hers!
Here's a quick and easy 1-Day Book or Toy Storage Build that doubles your storage on top of cabinets or furniture! That's a huge DIY Kids Room Ideas Storage Win!!!
Anika's DIY Life can show you how to turn any printable into custom art with her Canvas Craft Idea Tutorial!
Looking to customize a kid's room closet, but don't know where to start? Check out this fantastic closet from The Created Home! She has easy to follow steps for how to build a custom closet for kid's.
Build your own custom Twin Upholstered Headboards with these easy to follow steps and how-to videos.
Here's a fun craft! Use your favorite scrapbook paper designs to make 3D Paper Hot Air Balloons or Mobile.
How about a cool LED Light Clip Display Board for photos, notes, and kid's artwork? This is so fun!
Effective toy storage is a constant struggle for parents, right?! I love this Ultimate Toy Storage Organization Design from Anika's DIY Life. Get the details from her site to build your own too!
The Fogue Abode converted a plain box into stylish wall storage for her daughter's chalk. Her DIY steps are easy to follow too!
House by the Preserve used store bought crates as cool wall shelves. Love these! So simple and you can paint them to match any room.
Itsy Bitsy Haligonians can show you how to update kid's table with a custom paint job to match any room. How sweet!
Have a hockey fan in your life? This DIY Hockey Stick Headboard is totally awesome. I'm sure you can use this DIY with other  things too!
Itsy Bitsy Haligonians has a super easy DIY for custom curtain tie backs. You can use almost anything with this idea!
Follow my favorite Kids Room Decor Ideas, DIY's, and Crafts Pinterest Board for more inspiration. 🙂
---
Looking for something bigger? My DIY Upholstered Bench would make a great DIY too!
Or grab my favorite easy way to strip old paint and stains off of furniture to help you get that next project started!
---
Love DIY and Crafts? Don't forget to sign up for the Abbotts At Home email newsletter to get DIY, Remodeling, and Crafty ideas in your inbox.