Yay, I love quick and easy home improvements. Here are some of my favorites!
Are you ready for some quick wins around your house? I know I am after spending 3 long weeks tiling my new master bathroom. Some of my blogger friends shared their latest home improvements, this month, and I loved all of them. So, I just had to share some of the quick and easy home improvements with you all. 🙂
---
THIS POST MAY CONTAIN AFFILIATE LINKS. AFFILIATES HELP YOUR FAVORITE BLOGGERS DELIVER FREE CONTENT. Make sure to always read the directions for any products or tools you use while building. Read the full disclaimer here.
---
Quick and Easy Home Improvements, you'll love!
By Brittany Goldwyn has all the steps to help you re-caulk those stairs. Pretty stairs really make a home so much nicer, right?!
Here's a great project that saves you time all summer long. Stop weeds from popping up on those garden paths with 3 easy steps.
Fill that "crumb and spill catching" gap under your kitchen cabinets with this quick and easy home improvement fix.
Speaking of kitchens, Health Home & Heart shared this awesome DIY for Under Cabinet Lights you can install without wiring, in under 5 minutes!
This hole-free DIY Baby Gate Hack for Stairs is one of my favorite easy home improvements and it kept my kids safe and off the stairs for almost 5 years. 🙂
Who else breaks those plastic valance clips on their blinds all the time??? I whipped up this quick fix for broken valance clips in about 20 minutes.
Southern Revival shared this clever, clever IKEA hack DIY Closet. You can definitely have an awesome closet like this in less than a day!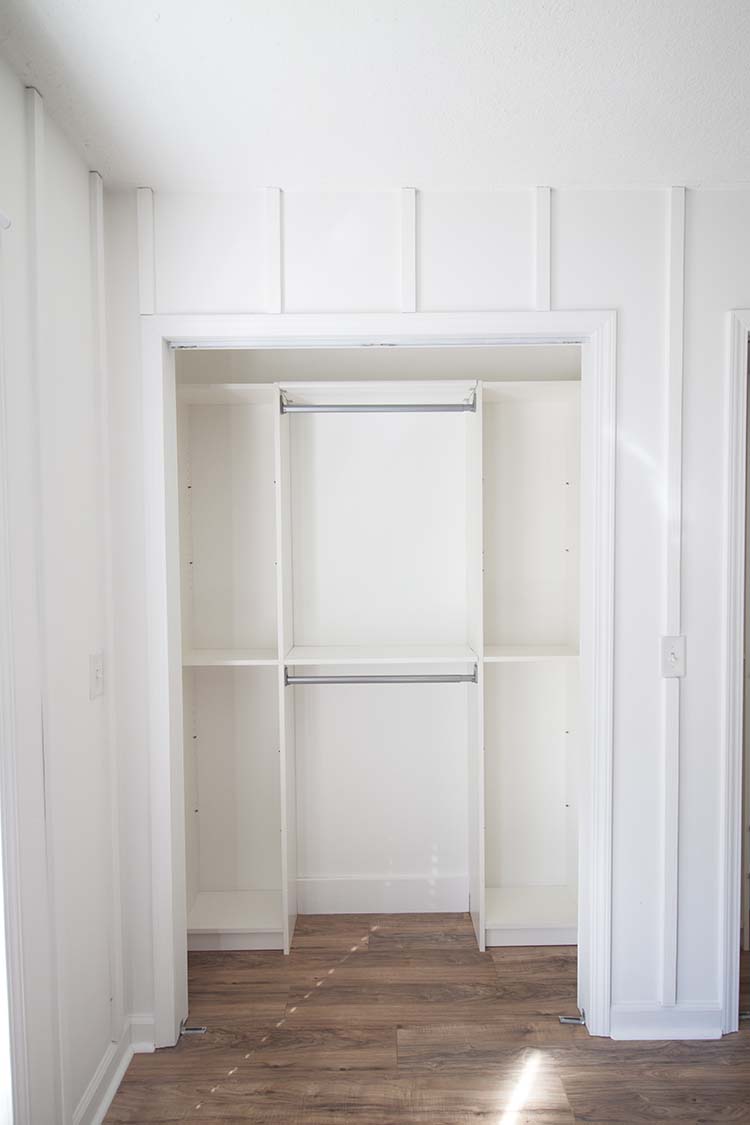 This might be the quickest home improvement on the list, replace those front porch light bulbs with flame effect LED's. I love the way they look on my house. 🙂
Here's another porch project that'll take less than a day. Refresh that dried and cracked front door, the easy way.
Kenya Rae shared how easy it is to get a pretty look and privacy with DIY Frosted Window Film. I use these too and love them!
This over the toilet DIY shelf couldn't be easier. And, it's a quick way to add some style to a boring powder room.
Guidelights in the hallway are such a great invention, guys. But, you used to have to wire them in. Not anymore! You can just replace the outlet covers in your hallway, bathroom, and kitchen…to get the perfect amount of light at night. I even use one as my kids bedroom nightlight.
The Frugal Homemaker can tell you how to add tons of character to your kitchen island with DIY shiplap.
Get rid of that ugly grout in an afternoon with this amazing grout color restorer and sealing DIY. You can even change the grout color completely.
If you've ever accidentally put a hot pizza on a wood table, you'll love one of the first quick and easy home improvements I shared here. This quick fix for heat stains with the video of me showing you how.
I love DIY Beautify's idea for just updating a small wall with shiplap. It adds so much style and character to a smaller area, right?!
That's it for this list. Good luck with your next DIY project. And, Don't forget to pin this list for later. 🙂
---
Looking for a bigger home improvement project? Check out my DIY Tongue and Groove Porch Ceiling Makeover.
---
Thanks for checking out these quick and easy home improvements. Please let me know if you have questions. Don't forget to sign up for the Abbotts At Home email newsletter to get DIY, Remodeling, and Crafty ideas in your inbox.